Drumstick – Drumming your way to super health!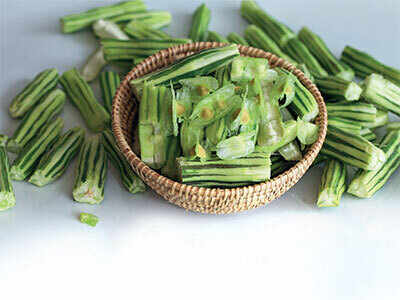 Drumstick
Think drumstick, and you're instantly hit by the aroma of well-made saambaar. A regular ingredient in one of the country's beloved dals, the humble drumstick aka moringa is not new on the circuit, but it has attracted major attention in the city recently. This when the health officials including CDHO's (Chief District Health Officer) and Medical Health Officers (MHO) in corporations received a three-page document and pamphlet from a senior NHM official on the health and nutritional benefits of drumstick (Moringa Oleifera) or horseradish.
Backed by the Gujarat Medicinal Plants Board's extensive pamphlet on the Moringa tree, the letter on 'Drumstick tree: A wealth of Proteins & Essential Minerals/Vitamins' by Dr Gaurav Dahiya (IAS), Mission Director of NHM, hailed the south Asian plant as 'superfood' and 'Tree of Heaven'. That it was widely used in ancient traditional medicine and in Ayurveda is no news.
The document extensively catalogued the health benefits of having its various parts – not just the fruit – including leaves, flowers, vegetable, seed pods, bark, etc. The benefits include weight loss, anti-ageing, better immunity, combating skin and hair problems, better digestion, healthier bones and regulation of diabetes. Phew! It is easy to say that it "can completely turn around one's health and lifestyle". Click To Tweet
Dahiya wrote, "It contains the eight amino acids necessary for the body, usually found in red meat, cheese and other dairy products. Vegetarians miss out on these elements that can be found in the moringa tree which boasts more than 90 nutrients! Click To Tweet Powder made from its leaves is a 'miracle' superfood and it is unfortunate that we don't give it much attention.
The benefits of Moringa's leaves, skin, seeds need to be brought to people's notice through our efforts and through your subdivisions including medical education, ICDS and the benefits of moringa tree can be made into a people's movement so that it is widely used."
The pamphlet adds, "It has anti-ageing properties and research has proven that. Click To Tweet Our biggest problem is that we make light of our own ancient sciences. Whereas it is only recently that western medicine confirmed its benefits and moringa is featured in Ayurveda's scriptures among 300 beneficial herbs."
Ye dil maange moringa
Dahiya revealed to Mirror that the letter was part of efforts under state's malnutrition drive and likened the objective of the letter to the Cambodian experiment where a Canadian researcher put a lump of iron into the cooking pot made of melted down metal to battle anaemia – a huge public health hazard back in the day.
"Government has launched the fourth phase of Poshan Abhiyaan – a state-wide mission to eradicate malnutrition among children by providing food through Anganwadi centres. A balanced diet full of micro and macronutrients is important. Such foods and an affordable way to help bring up nutritional and haemoglobin counts of children," said Dahiya.
Inspired by Dahiya's love for moringa – allow us to come clean, we absolutely dig the vegetable – we decided to speak to nutritionists who helped us delve deeper into the benefits of having the always-available-yet-elusive moringa.
Moringa deserves attention
Nutritionist Liza Shah says that it is one vegetable that deserves more attention. "The drumstick or moringa derives its name from Tamil word, murungai, meaning twisted pod. While Moringa has been proclaimed as one of the more recent superfoods, the fact is that the vegetable has been part of Indian cuisine, especially south Indian, for centuries," she says.
"Be it something as simple as a saambaar or an avial or just about any meat curry, pieces of drumsticks are always used. It may not be used in many north Indian dishes, but moringa is steadily making its way into other regions too. Besides these dishes, you can prepare soups, salads, pickles and even different sauces for an added crunch," adds Liza.
Great for pregnant women, too
"Drumstick and its leaves are therapeutic for the human health one way or another. High in Beta Carotene, B-complex vitamins, vitamin C, magnesium, zinc, and other antioxidants," sports nutritionist Pallak Shah says, adding "If pregnant women have moringa regularly can supply them essential calcium, iron and vitamins."
Moringa not only avoids infection with its anti-bacterial and anti-fungal properties, it also helps tackle lung problems. Click To Tweet
Did you know drumstick pods can make your skin glow and shine! "Usually, when combined with lime juice, the pods can help get rid of acne, blackheads, pimples," adds Pallak.
You can get drumstick leaves – like the fruit and flowers – fresh off the tree, and store it as a dry powder.
Why have moringa…
Regulates blood sugar levels, hence a boon for diabetics
Helps improve digestive health
Great to develop stronger bones
Helps purify blood
Relieves respiratory disorders
Boosts immunity
Packed with nutrients
Fights free radicals
Fights inflammation
Helps reduce some diabetes symptoms
Protects the cardiovascular system
Supports brain health
Protects liver
Contains antioxidants, antimicrobial and antibacterial properties
How to store fresh moringa leaves
Air dry leaves including stalks for 3-4 days. Remove stalks and sauté leaves for 2-3 minutes on medium heat. When the leaves cool down to room temperature, grind it, and sieve it. Make sure to store it in a cool dry place to increase shelf life. You can add this powder to your routine as well. Add to bread dough or roti atta, have it with water in the morning, add to soups, stews or dals. Remember to add it at the end of cooking or just before you take it off heat.
Rishta e Gulfam
(A famed dish of the Valley, Gushtaba Rishta dons the vegetarian version with the fresh pulp of drumstick and fresh chaman in authentic Kashmiri spices)
INGREDIENTS
Drumstick (boiled, deskinned and pulped) 400gm; fresh paneer 400gm; drumstick leaves 75gm; ground red chilli powder 6tbsp; black cardamom 3; green cardamom 4; saffron 4 tbsp; salt 2 pinches; turmeric ½ tbsp.; cloves 3; cinnamon stick 1; shallots (crushed into a paste) 1sp; ghee 4tbsp; aniseed 1 pinch; lemon juice to taste; zafraan to taste
METHOD
Mash paneer, mix in the pulp of drumsticks, wash and chopped leaves, Kashmiri spices, adjust seasoning and shape into balls. Boil in a pan with water enough to cover the dollops. Cook for 10 mins till dollops rise to the surface. Then add turmeric, chilli paste, cloves, cinnamon, black and green cardamom, fried shallot paste and saffron water. Cook for 4-5 minutes till gravy thickens. Add salt to taste. Heat ghee in a separate pan, add to the mince gravy and close with a tight lid for 2 minutes. Garnish with aniseeds and serve hot.
The Elixir
(A lip-smacking coastal soup with wonders of greens benefitting the body with glowing skin, stronger immunity, fibres and vitamins)
INGREDIENTS
Drumsticks 4; aloe vera 4tbsp; drumstick blossoms (optional) a handful; drumstick leaves a handful; wheat germ 1 small bunch; basil a bunch; butter ½ tsp; carom seeds ½ tsp; coconut milk stock 1 cup; salt and green chilli to taste; black pepper to taste; lemon juice to taste
METHOD
Wash drumsticks, trim and chop them into finger-long pieces. Place in a pan with 2 cups of water and boil until soft. Squeeze out the pulp or scoop it out with a spoon. Keep pulp side, discard woody parts. Blend pulp in a mixer until smooth. Chop the basil and wheatgrass into small pieces. Heat butter in a pan and add the carom seeds. When they splutter, add drumstick blossoms, drumstick leaves, and coconut milk broth. Adjust with seasoning and put to boil. Cook until the mixture is homogenous, stirring continuously. Add drumstick pulp, aloe vera and mix well. Add salt and freshly ground black pepper and lemon juice to taste. As temperatures chill, warm your senses and nurture your body with this hot 'The Elixir' drumstick soup. Enjoy.
It contains 8 amino acids necessary for the body, usually found in red meat, cheese and other dairy products. Vegetarians miss out on these elements
https://ahmedabadmirror.indiatimes.com/others/food/the-versatility-of-sausages/articleshow/65283507.cms